Another Telegraph article not behind the paywall:
"Monkeypox upgraded to same severity level as leprosy and plague"
They - our tyrants - may try to use this mild disease, mainly afflicting of third world homosexual men, as an excuse for imposing restrictions on us all as they did with Covid, but I don't think they will. The headline of the article is deliberately sensational. Clickbait.
Why did the FDA forbid the use of ivermectin as a treatment for Covid?
I'm not so sure - they did it for Covid, so I don't put anything past them.
The FDA is part of the Criminal Enterprise otherwise know as our government!
I don't think they will go to the same lengths with restrictions either (that would be too much of a stretch even for them, partly as it's a very visible disease), but I think there's more going on here than just news sites trying to attract readers. For one thing there was the "tabletop exercise" a year ago that predicted a monkeypox outbreak, with very eery similarities to Event 201, and also the fact the WHO is involved as well.
I just don't understand why they chose monkey pox. It is mostly an STD or as we renamed it, an STV, which is found more among gay men, especially when they attend gay sex extravaganzas and go back home with the pox.
Yet, they did mention that the virus had undergone gain of function messing around in a lab in Wuhan…
Yes, it seems they've messed around with every virus out there.
And "they" includes the US.
The WHO is ramping it up:
"Monkeypox to get a new name, says WHO"
Oh, we must make our latest virus more presentable to the public, as we use it to beat them into further submission…
"Why did the FDA forbid the use of ivermectin as a treatment for Covid?" I suspect because they knew that it is safe and effective – the same reason they condemned the use of HCQ+Zinc. We can't have it because it would end the crisis they're imposing on us. Last September I was able to get a round of Ivermectin (20 x 3 mg as shown in the meme) from a local neighborhood pharmacist via an Rx I had sent to him by an online MD. I haven't had to use it, and frankly I don't suspect I'll get covid. I may have acquired an immunity to it from the previous outbreak of SARS-Cov (1) in 2002-4. I also suspect many people just have strong immune systems that can resist it even without previous exposure. So many unvaccinated nurses and doctors have been exposed to SARS-CoV-2 without contracting the disease. On another note, some of the medical professionals have voiced concern that the lockdowns, social distancing, mask wearing, etc. may have deleterious effects on our already-acquired herd immunity to any number of other diseases. There's also concern that the vaccines tend to weaken the immune system in some respects. But to return to ivermectin and HCQ+Zinc – their suppression is one of the most heinous aspects of this whole crisis.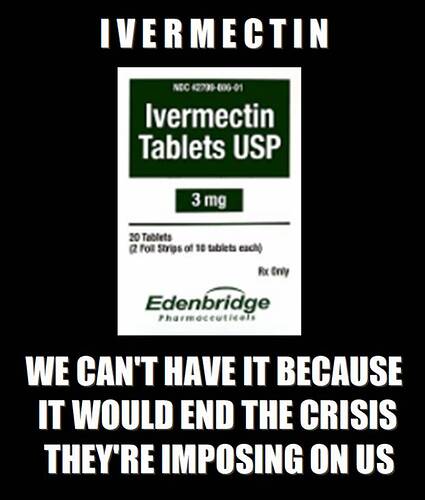 I have the same suspicion as you about their motivation in trying to prevent the use of ivermectin.
Yes, it would have ended the crisis they imposed, and also cut into the huge profits they all made off the vaccines.